On my way to the bank today, I drove past a couple of little girls selling lemonade on the side of the road. As I drove on, I told myself that I would stop and support their burgeoning business on my way home.
Then, at the bank, I made the mistake of depositing all my cash--I meant to keep out a few bucks. My hasty deposit left me unable to support the little girls.
I, being the "nice guy" that I am, had already imagined how I was going to be their only customer and how they would remember me for years to come as the "nice guy" who stopped to buy their lemonade when no one else cared to notice they had set up a stand. My dream was shattered. I guess I could've asked if they accepted AmEx.
Anyway, seeing the little girls reminded me of selling lemonade with my best friend James when I was a kid. There were a few differences between our lemonade stand and theirs.
First, their stand was on a residential street, not unlike this drawing.
James and I set up shop on the corner of Hamer Dr. (the street our house was on) and Yorba Linda Boulevard (the nearest cross street/busiest street in town), which was sometimes like this picture.
But was usually more like this.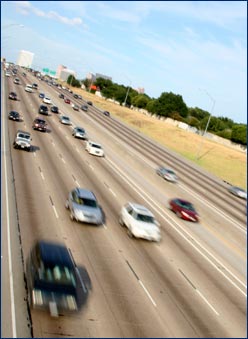 I know those little girls didn't get their lemons at the
produce-less Provo Farmers' Market
, but I'm sure one of their mothers drove to the store to pick up their supplies in one of these.
James and I, on the other hand, got our lemons from the source (the hybrid lemon tree in our backyard, which produced the HUGEST lemons ever).
(I couldn't resist giving the lemon wheels like the soccer-mom mobile.)
We couldn't do just lemonade, though. Our aspirations were much bigger than that. We had to do Kool-Aid and, of all things, Blow Pops (which our cheerleader sisters had taught us were a staple of life). Those (in our minds) could only be purchased at Smith's. Smith's was several miles away, up the busiest road in town, in another city. Why we chose Smith's, I don't know. Anyway, we walked there. And on the way back, we got chased by some of these.
Okay, it was Orange County. They probably looked more like this.
Or like this (I wish).
Whatever they looked like, chase us they did. So we ran and hid behind some bushes until they got distracted by their reflections or something.
When we finally made it back to our house, we dragged the card table and some folding chairs down to the corner, set up shop, and waited for the customers and the cash to come rolling in.
The little girls today probably made some of this.
And they probably got it from some poor, starving student who didn't just deposit all his or her cash in the bank.
James and I, however, were just lucky we didn't end up like this.
We were just too stationary and the cars were just not stationary enough. No potential customers could spot us in their peripherals as they zoomed past.
Anyway, that's what I thought of when I saw the little girls with the lemonade stand today. I had my camera with me and thought about taking a picture, but then thought of how creepy that would seem and decided against it.